Moonalice KPFZ Benefit Concert  at the Cache Creek Vineyards
POSTPONED!   Now Sunday Sept 25, 2022  6 PM 
Tickets are $20 in advance through Eventbrite ($21.72 with fees) and $25 at the gate the day of the concert. Outdoors event - bring lawn chairs. Gate opens at 5 PM and concert starts at 6 PM. A benefit for KPFZ, and venue is donated by Cache Creek Vineyards and Winery. There will be wine, beer, food and water for sale. No outside alcohol and no dogs, please.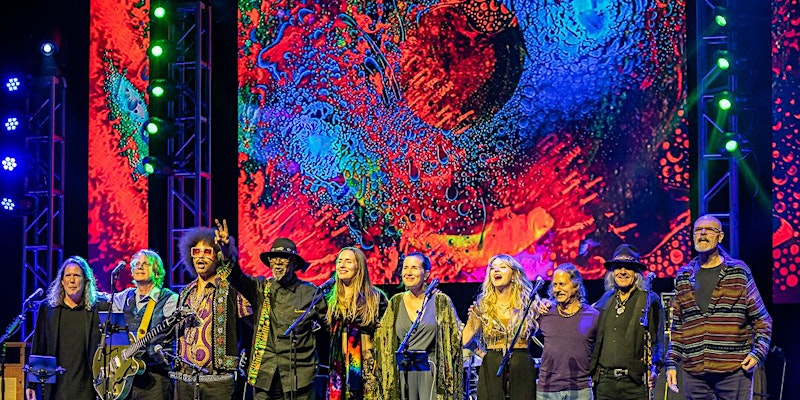 Moonalice is an exuberant Bay Area ten-piece band known for delivering a unique blend of psychedelic soul and rock-tinged Americana. Led by vocalist Lester Chambers, from the pioneering '60s psychedelic soul group The Chambers Brothers; bassist Pete Sears, a founding member of Jefferson Starship who has played with everyone from Rod Stewart to Jimi Hendrix; and founder/guitarist Roger McNamee. Their incredible chemistry shines through in their live performances and the recent release of an album featuring the Chambers Brothers classics Time Has Come Today, People Get Ready and Let's Get Funky. Moonalice also features esteemed members Barry Sless (lead guitar and pedal steel), Mookie Siegel (keyboards), Grammy winner John Molo (drums), along with Lester's dynamic son Dylan Chambers, and Erika, Rachel, and Chloe Tietjen of acclaimed Americana band the T Sisters. Moonalice has a renegade spirit and an ethos of love, peace, and happiness that permeates everything they do.
Don't miss this great concert, and help support KPFZ, 88.1 FM, Lake County Community Radio.
This KPFZ fundraising event is made possible by the following sponsors: Cache Creek Vineyards and Winery, Park Place Restaurant, Premier Flooring, American Plumbing, Smiling Dogs Winery, BW Blues Productions, Jim and Olga Steele, Ed Robey and Anita Alexander, Jackie Riche, and Herb Gura/Self Help Law Center.